We've all been there: you reach out to arrange a meeting or to make a sales pitch and have to leave a voicemail. Later in the day, you check your missed calls and see that you did get a call back, but you were too busy to pick up your phone. You return each other's calls again and again, leaving messages every time.
Before long, momentum has run out, and you're left with a lot of wasted time and, maybe a wasted sales opportunity. This frustrating phone tag back-and-forth can be greatly reduced, however, with a few tips. Less phone tag means more productivity and more productivity means more revenue.
Below we'll show you why phone tag is such a productivity killer and how to make sure you get the most out of every call, even when they keep going to voicemail.
Phone Tag Kills Productivity
Playing phone tag equates to a lot of wasted time and money: from sitting on the line while it rings, listening to
messages from missed calls, and leaving the same messages repeatedly, it's a huge time suck for sales reps and business owners. It also increases the chances that a sales opportunity will be missed, as you lose steam and slip off of your prospective client's radar.
We'll talk about how to increase the effectiveness of each call next, even those that don't go through.
1.    Leave LOTS of Detail in Your Messages
To make the most of the voicemail messages you leave, leave lots of detail for your contact. Always be specific with dates and times, and if you're trying to arrange a meeting, leave specific options for different meeting times in each message that you leave.
Basically, be as specific as possible! Mention the "who, what, where when, why, and how" of the meeting or other call topic, and don't forget to leave a contact number—even if you think they already have it. If it's a customer service call, be sure to address your customer by name and mention that solving their problem is extremely important to you.
2.    Repeat Important Details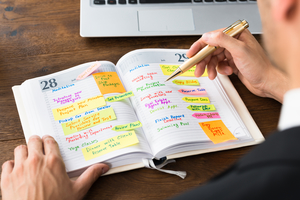 When leaving your message, repeat all of the most important details. In the age of cell phones and VOIP services, messages can sometimes break up and make words inaudible. Repeating key details like your return phone number and possible meeting times ensures nothing is missed, making a callback more likely.
Sometimes, cell phone voicemail systems have a limit on the maximum length of messages. For this reason, know what details you need to include beforehand so that you don't ramble needlessly. Briefer messages tend to be more effective and take away less time from the other person.
3.    Indicate If Your Call is Urgent
If the message is urgent, let them know! It will help your call stick in the person's mind when they hear your message. If your call isn't urgent, however, don't mislead them by portraying it as such. You should also consider time zone differences that could affect whether or not your calls will go through.
In addition, consider if certain people that are extremely high-priority. You want to make it less likely that you miss
calls from these people. To do this, consider assigning different ringtones for different phone contacts, creating a distinct ringtone for different levels of urgency.
4.    Give Them Another Option to Get Back to You
Give them alternatives to getting back to you beyond just calling you back on the same number. For example, is there another person they can contact? Maybe you can get in touch via email, text, on a video chat service, or messaging on a social media site. If you give them some flexible options for getting back in touch, they'll be more likely to take action.
Final Thoughts
Phone tag is an annoying reality for business owners and sales teams everywhere. But by learning how to leave more
effective voicemail messages, you can reduce the number of clients you lose due to that break in critical momentum that phone tag causes. Play less phone tag and you can increase your productivity hugely.