Handling customer service issues is a huge part of running any business. You need to have a process in place that every request is handled in such a way that each interaction leaves customers feeling like they had a great customer service experience. Ultimately, how you handle customer service issues will be the factor that separates your company from your competitors.
Here's how to design a winning customer service process for your business:
1.    Identify where your customers go to ask questions.
To design a customer service process that works, it's critical to understand where your customers are going to ask their questions. Are customers calling a customer support phone number, or typing questions into an online customer portal? Maybe inquiries are going to service representatives via social media, or through a technical support email address. You might have a mobile app that customers are using to make requests as well.
Identify the channels they're using, and take advantage of them. Phase out any channels that make it harder for your support staff to handle all of the requests effectively.
2.    Create a Case for Each Inquiry
For every customer service inquiry, create a case file. This is where any changes, updates, and other information will be posted, so that cases can be organized and dealt with efficiently. In each case file, include information about the customer, what product or service they placed an order for, what their issue is, who they spoke to about it, and what the status of their request is.
Make sure that every request is well-labeled with all of this information, as well as what stage the request is at: has every question been replied to? Is the case still open, or has it been resolved? The more detail you can include about each case, the better.
3.    Assign the Case
After a case is opened, the next stage in your workflow should be to have it assigned to a customer service rep. Ideally, the same customer service rep will handle that case from beginning to end. You want the customer to have to deal with as few different representatives as possible to keep things streamlined and give them a personalized experience.
Next, categorize each case according to predetermined criteria. These might be what product the customer bought, or what the nature of their complaint is. Just make sure that whatever the category is, that it makes sense and makes cases easy to organize.
4.    Identify a Solution
This is the step where the customer service representative comes up with a solution to the customer's issue. If you have a searchable database of solutions to common problems, this step can be arrived at much faster. Since most problems are ones that happen over and over, it's much more efficient to give your reps an answer database that addresses inquiries that repeat frequently.
5.    Deliver the Solution
Once your rep identifies a solution to the problem, it will have to be presented to the customer. At this phase, the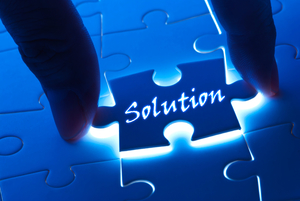 case will have to be evaluated. Based on the results of the evaluation, it will either be logged as solved and closed, or the rep will have to repeat steps to identify a new solution that leaves the customer feeling satisfied.
6.    Determine Threshold for Case
Determining the authority threshold for a case is important, because it indicates when a case needs to be handed up to a higher-level manager or a supervisor. Threshold criteria might be different depending on how the case was categorized.
7.    Close Case
When a resolution has been reached definitively, a case can be closed. Information from the case file can then be used to learn more about your process to improve it, train new customer service reps, and provide ongoing training to current reps so that they're better at their jobs.
Final Thoughts
How your employees interact with customers will have a huge impact on the impression your company leaves on them. But every customer service case, complaint, and question provides an opportunity to improve your customer experience, and provide a more positive customer experience in the future.  A detailed, organized case file for every inquiry is a must-have for achieving this. Other tools, like customer surveys, are also valuable for additional feedback.
Modern customer expectations are high, so be sure to meet them! Make sure your customer care system is easy to use for reps, easy to navigate to find ways to improve your process, and easily accessible to every employee who needs it, and you can design a service process that will earn you loyal customers for life.