With an endeavor as challenging as becoming a successful entrepreneur, mentorship can make all the difference between failure and success. This article will discuss what a great entrepreneurship coach can do, and why you should consider one to help you build your business.
What is An Entrepreneurship Coach?
An entrepreneurship coach is someone who has been through the rigor of founding, launching, and building a successful business. Their primary role is to help guide you through the business challenges you'll face along the way, showing you how to avoid common pitfalls and strengthening your leadership skills. Essentially, their job is to help you realize the vision for where you want your business to go, and what you want it to achieve.
How Can An Entrepreneurship Coach Help Me & My Business?
There are lots of ways that an entrepreneurship coach can give your business the boost it needs when your startup is in the early phases. Here are just a few of them:
Spot Weak Points
One of the greatest benefits of an entrepreneurship coach is to diagnose and troubleshoot weaknesses in your strategies, revenue model, and other aspects of your business. When you're just starting out, any weak point that isn't addressed can quickly balloon into a serious problem. By being able to nip weak points in the bud with an entrepreneurship coach, you have a better chance of success right out of the gate.
A coach also gives you an unbiased sounding board to help assess every aspect of your business, the direction you envision, and other ideas you have. Eyes outside the business are a valuable and rare thing, especially from experts who have built successful start-ups of their own.
Hold You Accountable
With eyes on you, you're more likely to stay accountable. An entrepreneurship coach won't do the work for you, but
they'll help motivate you to get it done by holding you accountable to goals, obligations, and milestones. A business coach, like any kind of coach, keeps you focused and achieving results.
Being a great founder and leader means always being accountable. Executive coaching sessions with a great teacher will help with personal responsibility and other leadership skills.
Making Plans & Setting Goals
Smart planning and execution are paramount for building a marketing strategy and achieving your business goals. A coach will help you keep plans doable and ensure execution is productive. After all, plans are great. But they need to be realistic and achievable, with all goals prioritized, in order to have value. An entrepreneurship coach will help you do exactly that.
KPIs, or Key Performance Indicators, are critical for smart planning to achieve every goal you set. A KPI is essentially a metric through which you can measure how well you're doing with each plan you execute. Every KPI you come up with needs to be tied directly to a specific goal in mind.
Let's say your goal is to become profitable. Two KPIs you could associate with this goal are revenues and costs. If you can measure that revenues are increasing and your costs are decreasing, you will know you are coming closer to profitability.
If your goal is to become a profitable business, revenue and cost measures are quantifiable things that you can track to achieve your goal. Entrepreneur coaching can help you make smart goals, and then figure out what KPIs to use as you create your plan to achieve them.
Keep Things Real
When you're an entrepreneur working 12-hour days (or more), you need someone to make sure you keep things real. That means making sure you don't lose total sight of work life balance, do regular reality checks and keep up the passion even when things get hard.
How Do I Find an Entrepreneurship Coach?
Your personal network is a great place to look for an entrepreneurship coach. If you don't know any coaches, and no one you know has used one they can recommend, a local small business association is another great option. Many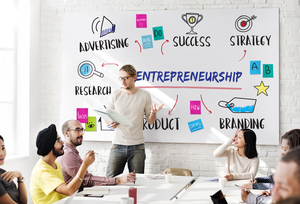 business coaches are members of, or advertise with, these sorts of community entrepreneurship organizations.
Of course, the internet is a great option as well. Look online for coaches offering services in your area, and be sure to ask for testimonials or references. An online coach you don't meet with in person isn't ideal, but could still provide value for your business. It's up to you to determine how important it is that you are able to meet regularly in person.
How Do I Choose the Right Entrepreneurship Coach?
Finding a coach is one thing. Finding the perfect coach for you takes a little bit more effort. The coach you find should be well-versed in your type of business, and should share your overall mindset. Look at their social media presence and marketing—how do they present themselves and their brand? What businesses have they built, and are they similar to yours? What experience do they have, and are they serial entrepreneurs or one-time CEOs? Have they been a keynote speaker at any innovation and entrepreneurship conferences?
Once you find someone who looks like a good match and you start actually speaking to different potential coaches, find one you connect with and who seems to understand your vision.
Be sure to ask lots of questions, not just about their experience but initial ideas they might have after hearing about
your business. If the coach's mind is already spinning on starting a game plan during your first talks, you might be on the right track.
Lastly, before speaking to any coaches, make a list of your biggest weaknesses as an entrepreneur. Be honest with yourself! If it helps, get a friend or colleague to help. The reason for this exercise is because a business coach can help most if their strengths are your weaknesses. By choosing a coach that excels where you don't, you'll be able to make the most of their services to become a more effective entrepreneur.
Final Thoughts
When the entrepreneurial spirit strikes and you decide to launch a new venture, you want to hit the ground running. But if you've never launched a startup before, make sure you do things right by hiring the right help. With the rise of social entrepreneurship, there might be even more opportunities for coaching programs and mentorships if your startup serves some kind of social good.
And who knows—your entrepreneurship coach might even become your next big investor!